The non-discrimination ordinance will be considered by San Antonio city council members today. Does the ordinance protect the gay and lesbian community or does it open the door to religious discrimination?
Yesterday, "dueling rallies" took place in San Antonio over the ordinance, as reported by Emily Baucum of News 4. Those who supported the ordinance wore red, and those who opposed wore blue. Sonja Harris of texasgopvote.com wrote in part that "there were at least 800 Blue shirts for the 2 pm City Council session and over 1,000 for the 6 pm meeting." She said, "The sea of Blue overpowered those wearing Red at the 6 pm council meeting also," but not surprisingly, that fact was not reported in the local news.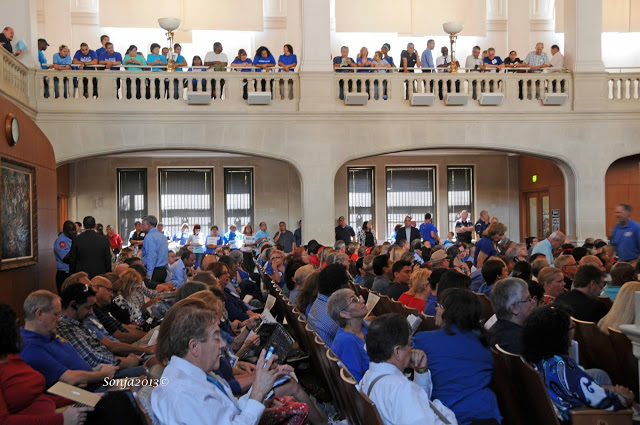 The ordinance has gained national attention, particularly for the "word or deed" clause, or Sec. 2-252(b) which "appears to ban anybody who has ever 'discriminated by word or deed' against gays from ever holding a city job, holding a city contract, or serving on a city board," as reported by Jim Forsyth of WOAI. The verbiage does not seem unreasonable, but who will be the judge of what is discriminatory? Will it be considered discriminatory if one supports traditional marriage based on their religious beliefs?
Lou Ann Anderson of WatchDogWire gives a good summary of the concerns with the ordinance.
Does support of "traditional marriage" mean "anti-gay"? Conversely, does a belief in gay marriage mean "anti-Christian"? Despite the seemingly obvious answer of "no" to both questions, oftentimes in the media, the belief in traditional marriage is considered to be "anti-gay." Consider the Chick-fil-A controversy last year. Chief Operating Officer Dan Cathy publicly voiced his support of traditional marriage and was quickly portrayed as anti-gay by many in the mainstream media.
The Southern Poverty Law Center (SPLC) tarnished it's own credibility by calling the Family Research Council a "hate group" over their support of traditional marriage.
The ultimate question is whether an individual or group may be banned under this ordinance from employment or doing business with the city based on support of traditional marriage. If this is the case, then the so-called "non-discrimination ordinance" is indeed, discriminatory.
Image Source: texasgopvote.com
Follow Renee Nal on Twitter @ReneeNal and Facebook.
Check out her news and political commentary on Liberty Unyielding, the Examiner and Tavern Keepers for news you won't find in the mainstream media. Renee is also a guest blogger for the Shire Blog.