Sioux City Mayor Bob Scott is one of the many mayors who have bailed on NYC Mayor Michael Bloomberg's creepy unconstitutional gun control coalition, "Mayors Against Illegal Guns."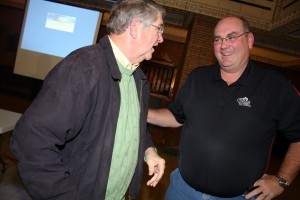 Charles C. W. Cooke of National Review pointed out the quote made by Mayor Scott, one of the astonishing 50 mayors who have quietly left the radical group. He said "They're not just against illegal guns, they're against all guns." Just like most extreme left-wing initiatives, the real goal is shrouded in a seemingly noble cause.
Just as ObamaCare is really about an eventual single payer health system and abortion is really about population control, gun control is really about ultimately denying citizens their right to protect themselves.
Cooke notes, however, that people are starting to get the ruse. "Still," he says, "slippery language and false moderation are dangerously unreliable rhetorical tools; they work only if the listeners fail to notice that they are being played."
Despite the grandiose claim that the group supports "the Second Amendment and the rights of citizens to own guns" on the "Mayors Against Illegal Guns" website, actions speak louder than words.
Mayor Lawrence Morrissey of Rockford, Ill. was applauded after he told a town hall meeting in June why he left Bloomberg's group.
He said,
"The reason that I joined the group in the first place is because I took the name for what it said — against 'illegal' guns." But "as the original mission swayed," he decided that "it was no longer in line with my beliefs."
If gun control groups were really about reducing violent crimes, the focus would not be on guns, but on the perpetrators of violent crimes. The current members of the group should serve as a handy guide for whom to vote out of office.
Image Source (Bob Scott is on the right): Laura Wehde via siouxcityjournal
Follow Renee Nal on Twitter @ReneeNal and Facebook.
Check out her news and political commentary on the Examiner and TavernKeepers.com for news you won't find in the mainstream media. Renee is also a guest blogger for the Shire Blog.