President Obama spoke yesterday at the Denver Police Academy. He spoke about gun laws. When speaking of the lack of action by the United States Congress following the Sandy Hook massacre, he praised Colorado for making "practical progress" and he called the Governor "wonderful."
Colorado Governor Hickenlooper signed three gun bills two weeks ago. The laws go into effect July 1, 2013. They are as follows:
ban on gun magazines of 15 rounds or more
background checks for all gun sales (with exceptions made for antique guns and "bona fide" gifts between immediate family members)
a fee on background checks charged to the gun purchase
Colorado has a deep love for guns. They also have some deep wounds from gun violence.
Columbine remains the deadliest mass shooting at a high school in the United States. Just last year, a nut with a 12-gauge Remington 870 Express Tactical shotgun, a Smith & Wesson M&P15 with a 100-round drum, and a Glock 22 killed 12 and injured 58 in an Aurora movie theater. And hours before these new laws were signed, Department of Corrections chief, Tom Clements was gunned down by a career criminal. A criminal released from prison just days earlier was able to secure a weapon and kill with it.
Some Colorado sheriffs took issue with the new laws and protested before the President arrived. They made comments against Obama and Gov. Hickenlooper saying the Governor lied when he said there would be a "discussion" about guns. Larimer County Sheriff Justin Smith calls the laws a "slap in the face to all Coloradoans." The law enforcement officers claim the bill was forced through by Democratic legislators. They are ill-informed though, as most gun-toting conservatives are, because in January, a Denver Post poll showed 60% of people in Colorado supporting the limit on magazine size and 80% supporting universal background checks.
And this Coloradoan feels it's a slap in the face when law enforcement protests laws that would help protect citizens. It's your job, Sheriff Smith, to protect people. Who's paying you to oppose laws your office is supposed to uphold? Why wouldn't you want background checks to keep guns out of the hands of criminals? No hunter needs to take more than 15 shots at a deer! If you miss, it's long gone after the first! Who needs more than 15 rounds? James Holmes did. And he wasn't hunting deer. He was hunting Coloradoans.
You, Sheriff Smith, need to be removed from office. You work for Colorado and your job is to uphold the laws in your state. If you don't like it, if you cannot uphold Amendment 64 and the new gun laws, find a new career. You're a disgrace to your profession.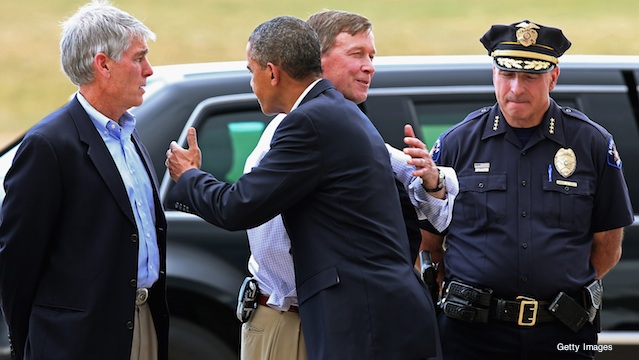 Image Source: CNN Political Ticker/ Getty Images