Dr. Benjamin Carson, touted as the perfect 2016 presidential candidate, joined his 'fans' on Twitter Friday. His account, @RealBenCarson (the same as his website) already has just under 25,000 followers. Dr. Carson made headlines recently for his common sense speech at the 2013 National Prayer Breakfast in Washington, D.C. on February 7th. Viewers hit the web with reports of President Obama pursing his lips, acting tired and looking angry. To the contrary, Carson said that Mr. Obama was very gracious to him after his speech. There have been some attacks from the leftist media, but they no doubt realize that attempting to make this man look bad makes them look spiteful. Certainly the more press the doctor gets, the worse the attacks will get.
Dr. Carson's first tweet said, "@RealBenCarson Today I've officially joined the twitterverse." Supporters were thrilled to interact with him judging by the 'retweets' at 1,295 and the 'favorites' at 545. Yesterday, he tweeted about his upcoming appearance on a live version of Sean Hannity's program on FOX News, 'Hannity'. He also chatted with fill-in host Dana Loesch on 'The Glenn Beck Program' on The Blaze. In both appearances, the doctor explained his ideas on bringing the nation together. On Hannity, he was asked if his detractors were trying to attack him. He said there was nothing they could do to delegitimize him, there were no skeletons in his closet but he knew they would keep trying, and they definitely are. They are ramping up cautiously, knowing the public has a positive view of Carson. You can bet there's some serious digging going on and it's disgusting.
One article, talking primarily about Carson's 'Saving America' special on 'Hannity' and his numerous interviews on FOX, described it as, "Fox's sudden beatification of Carson". Ridiculous, the man needs no beatification, his was probably preordained. Of course FOX is putting him on air because of his recent surge in popularity. Absolutely no different from CNN or MSNBC throwing Sandra Fluke into America's living rooms. The article jumped on the already worn-thin trend of saying Dr. Carson embarrassed President Obama. Dr. Carson spoke his mind. He was respectful, honest and likable, all things that throw the left into a fit. And, yes, they had to add, "Minority ethnicity probably helpful," as some type of implication. Does the left truly believes that conservatives are all racist or 'using' minorities, or is it just that comfortable for them to throw out the accusations?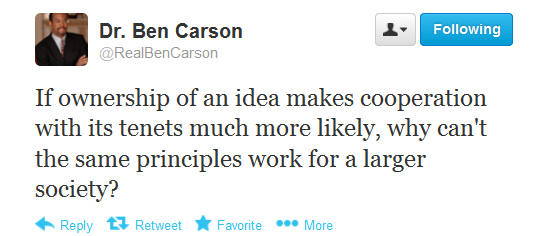 Dr. Benjamin Carson is the Director of Pediatric Neurosurgery at Johns Hopkins Hospital. In 1987, he was the first doctor to have separated 'Siamese twins' joined at the back of the head. He is dedicated to his job and used to work from 7:00AM to 8:00PM, six days a week! In 2008, he was awarded the Presidential Medal of Freedom by President Bush. Today, Dr. Carson and his wife Candy run the Carson Scholars Fund and he intends on retiring from his position at Johns Hopkins this summer. Hopefully, he will enter politics, his kind of common sense is much needed in Washington. He told Hannity, "I've always said the only way I would go into politics is if God grabbed me by the collar and stuck me there."
Photo credit: Twitter/Dr. Carson