A new Obama ad eerily reminds people why propaganda is frowned upon. The video features a group of blank faced children singing a song that is so shocking, so far fetched that it's hard to believe President Obama would agree to air it. Jeff Goodby (Harvard, Obama fan, hired to do Chevy ads after the takeover) and Rich Silverstein (Obama fan, big liberal, progressive) started a famous ad agency that did commercials for Netflix, Cheetos and conjured up the "Got Milk?" ads. No longer with the agency, they came up with "The Future Children Project" that has kids blaming their parents for destroying the world as we know it, all because they voted for Mitt Romney. The website makes it clear where their allegiance lies, "Re-electing President Obama is a momentous decision that will require every single voter."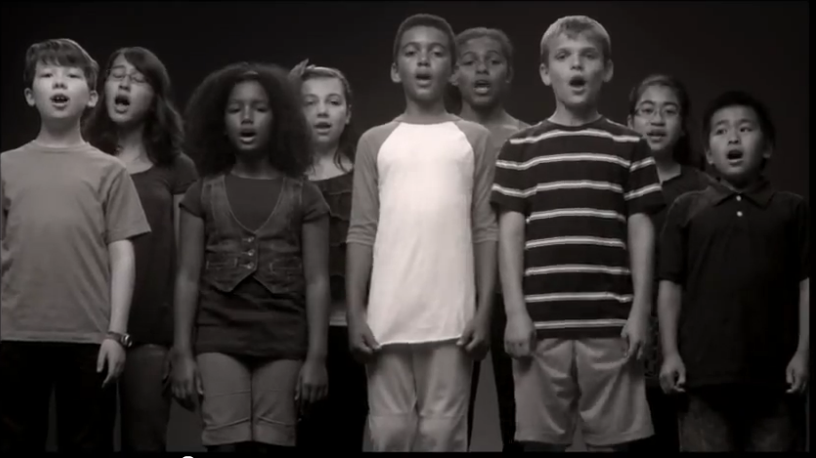 "A world where sick people are required to "just die," the atmosphere is "frying," gays can be "fixed" and "oil fills the sea," writes The Daily Caller. "Fixing gays"? Didn't realize that was part of Romney's plan. The video asks, "What Would The Children Of The Future Say If We Let Them Down This November?" The song the children sing also mentions polar bears being 'almost' gone, breathing "poison air", Big Bird got "sacked" (enough with the dang yellow bird already), endless wars...just sheer stupidity. This from award-winning top ad guys? Propaganda, pure and simple. The ad is similar to the Hitler Youth videos from World War II! "Vorwärts! Vorwärts!" (Forward! Forward! Isn't that an Obama campaign slogan?) No surprise, the website and the YouTube page won't allow any comments. With almost 4,000 'thumbs down' votes, clearly viewers agree with the comments on the Obama ad at various websites.
How do they expect kids to react to the video? By running to mommy and daddy in fear demanding they vote for Barack Obama? The entire song is absurd, but the closing lyrics are enough to tick off any parent:
We're the children of the future
American through and through
But something happened to our country
And yeah, we're blaming you
You did your best
You failed the test
(Naturally, they have the youngest little girl, in the sweetest voice read the closing line)
Mom and Dad
We're blaming you!
So far, there's no "I'm Barack Obama and I've approved this message" attached to the end of it. Unless that pops up, the president can't really be held responsible, can he?
'The Children of the Future' website: HERE
Photo credit: YouTube screenshot
© Margie Wilson-Mars 2012