"I've been trying to get paid for this but it hasn't worked out yet. This might help." That's the word on the Mitt Romney video from the person who helped to facilitate its release, James Carter IV, the grandson of Jimmy Carter. He also admits to trying to find something like the video, "I've been searching for clips on Republicans for a long time, almost every day." Whatever his motivation, a job or just a little smackdown to the GOP, he might have stumbled into a bit of a scandal.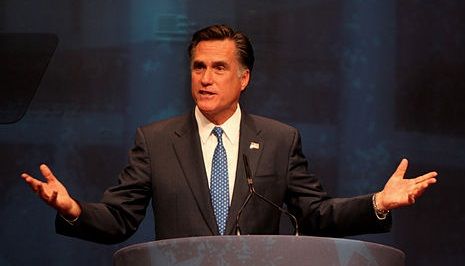 The video, which was released by liberal website Mother Jones, claimed it was the "full" and "raw and uncut" video of Romney, at a fundraiser in a private Florida home. The first obvious cut was after Romney said, "We do all these polls — I find it amazing. We poll all these people to see where you stand in the polls but 45 percent of the people vote for the Republicans and 48 or 49-..." then it picks up with Romney talking about China! As The Blaze asks: Why did the video cut at such a crucial point? Selective editing? When questioned, MoJo claimed there was no editing and maintained the video was uncut. Even Romney called BS! Well, what do you know! It was just a little mistake...really!
Mother Jones issued two updates after realizing their "Deny, deny, deny" strategy wasn't cutting it:
"Update: Due to a production error, a section of part one of the full Romney "47 percent" video was not initially uploaded properly and an intial section was omitted. This has now been remedied." (sic)
"Update: According to the source, the recording device was inadvertently turned off between these two segments. The source noticed quickly and began to re-record, resulting in an estimated a one-to-two minute loss of tape."
Those darn production errors! Don't you hate when that happens? NBC had that awful error when they were reporting about the George Zimmerman tape, what was it they said? Ah, "During our investigation it became evident that there was an error made in the production process that we deeply regret."
A second part of the video was released Tuesday morning with Romney discussing Israel, Palestine and other foreign policy issues. There was more to Romney's words than the site makes them out to be. For instance, when someone asked him how they could solve the "Palestine problem", MoJo writes, "Romney immediately launched into a detailed reply, asserting that the Palestinians have 'no interest whatsoever in establishing peace, and that the pathway to peace is almost unthinkable to accomplish.'" What he said after that puts things in a much clearer perspective, "I'm torn by two perspectives in this regard. One is the one which I've had for some time, which is that the Palestinians have no interest whatsoever in establishing peace, and that the pathway to peace is almost unthinkable to accomplish. Now why do I say that? Some might say, well, let's let the Palestinians have the West Bank, and have security, and set up a separate nation for the Palestinians. And then come a couple of thorny questions."
Later in the conversation, Romney says he got a call from a former secretary of state that told him he thought there was a prospect for a settlement between the Palestinians and the Israelis after the Palestinian elections. Romney says he responded, "Really?" And, you know, his answer was, "Yes, I think there's some prospect." And I didn't delve into it." Then, surprise, the video ends. The Blaze details more about the misleading nature of the article on Mother Jones. Obviously, everyone is playing hardball this close to the election.
Was this recording even legal? Florida law states that both parties must give consent, the person recording and the person being recorded when one of the parties has a reasonable expectation of privacy. The murky area is that 'reasonable expectation of privacy'. Mitt Romney was in a private home, at a $50,000 per person fundraiser and no media was allowed. The recording was likely illegal, but actually prosecuting someone for it is probably near impossible. Romney's bigger concern should be finding out which of his 'supporters' is slimy enough to pay $50,000 to get a recording of him telling the truth. It's certainly not one of Obama's 47 percent!
Photo Credit: Gage Skidmore/Wikimedia

© Margie Wilson-Mars 2012