Paul Ryan was promoting the Romney campaign in Roanoke, Virginia on Wednesday. Small business owner Chris McMurray, owner of Crumb and Get It Cookie Co. introduced the Vice President hopeful. McMurry declined request for Vice President Biden to visit the bakery last week.
Ryan emphasized Romney's business background provides knowledge on how to improve the economy. "Obama said last summer was going to be the summer of recovery. It's a summer later and it's still worse. He said that the private sector is doing just fine, we need more government. This is President Obama's imaginary recovery. It's not here." Ryan added, "We have a mountain of uncertainty that's plaguing small businesses and we have a person in Mitt Romney who knows through experience the challenge that businesses face, how job creation works, that the engine of opportunity, the nucleus of our economy is not the government, but the successful small business, the entrepreneurs, the people of this country."
Although he never said the phrase, the Republican theme of "We did build it" backdropped Ryan on a very large banner. This theme stems from an unscripted comment Obama made in Roanoke on July 13, "If you are successful, somebody along the line gave you some help. There was a great teacher somewhere in your life. Somebody helped to create this unbelievable American system that we have that allowed you to thrive. Somebody invested in roads and bridges. If you've got a business, you didn't build that. Somebody else made that happen. The internet didn't get invented on its own. Government research created the Internet so that all the companies could make money off the internet."
The Romney campaign continues to build on the remark stating that Obama is "out of touch" with small businesses.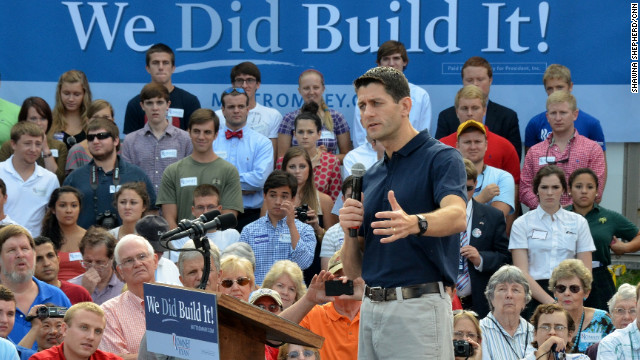 Photo by Shawna Shepherd/CNN