Hillary Clinton is insanely intelligent and one of the most powerful women in the world, but did you know she's funny as well? The former First Lady and current secretary of state has always shared an edgy sense of humor that her supporters adore and her opponents scoff at (probably because they're all so uptight and lack sense of humor themselves) Her latest comical stunt takes the cake and stuffs its frosty goodness right into the faces of those who think she's a cold fish!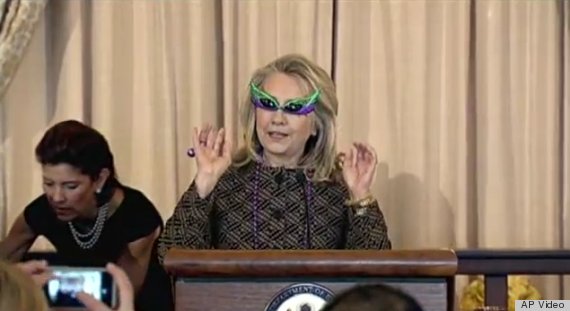 During the swearing in ceremony of assistant secretary of public affairs Michael Hammer, Hillary Clinton donned some Mardi Gras beads and funky rings. Though the most hilarious part of the ensemble was a pair of funky purple and green glasses that looked strikingly similar to Dame Edna's or Elton John's. The video at the bottom of this post is priceless, and one of the many reasons why Hillary is one of the most vibrant people in Washington D.C., right now. Sure her haters and general haters of democrats are going to find ways to pick this whole thing apart. She may be called unprofessional, but having one of the most serious jobs in the world doesn't mean you have to be a stone-cold lamer.
What are some of the other hilarious thing Clinton has done in public? Well some of the following quotes just add to why this lady would make a great leader and friend!
"You can always tell when the Republicans are getting restless, because the Vice President's motorcade pulls into the Capitol, and Darth Vader emerges." —said during a fundraiser.
"If I didn't kick his ass every day, he wouldn't be worth anything." —talking about Bill Clinton (obviously)
"It did take a Clinton to clean up after the first Bush, and I think it might take another one to clean up after the second Bush." —Before Obama became POTUS.
So there you have it. There are plenty of other things that make the secretary of state the cat's pajamas, but a wonderful sense of humor is among the best qualities a human being can have. For that, she deserves made respect. Watch below:
Crime analyst and profiler Chelsea Hoffman can be found on The Huffington Post, Chelsea Hoffman: Case to Case and many other outlets. Follow @TheRealChelseaH on Twitter or click here to contact Chelsea directly.